Complimentary Cosmetic Smile Imaging 2014
Happy New Year from Rudnick Dentistry! We hope you start 2014 with a big smile. Now offering, Instant Cosmetic Dentistry Smile Imaging to new and existing patients. It's free and takes only a few minutes.Have you ever wondered what your uniquely enhanced smile could do for your relationships, career and confidence? You can read about it and wonder but until you see yourself with your new look; or you'll never know the true benefits.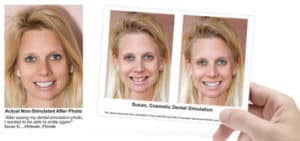 Cosmetic Smile Imaging offers customization with Tooth:

Enjoy smiling. Enjoy your pictures. Enjoy the moment.
Your personalized before and after cosmetic dentistry photos can help you see the benefits of treatment before committing yourself to a full treatment plan. And they will also show you how a beautiful, natural smile can help you smile with confidence!
Dr. Rudnick now offers SNAP Cosmetic Imaging as part of his complimentary cosmetic consultations.
Our Cosmetic Dentistry Consultation includes: Complete examination Discuss your goals and desires for your new smile Review our extensive cosmetic dentistry portfolio of before-and-after pictures Receive your own set of before-and-after photos with SNAP Cosmetic Imaging Get a custom cosmetic dentistry treatment plan with options.
Get Started Today!
You deserve a beautiful smile that you can be proud of. With SNAP Cosmetic Imaging, you don't have to wonder what your new smile will look like. Take advantage of our complimentary cosmetic dentistry consultation to explore your options. Call (561) 544-7201 to schedule your complimentary consultation or request an appointment online at  https://roadside.wufoo.com/forms/w7r6s9/
Improving Smiles. Improving Lives. — Andrew Rudnick, DMD