Rudnick Dentistry Receives 5 Star Customer Satisfaction Award
Talk of the Town
Recently, Talk of the Town News awarded Dr. Rudnick and Rudnick Dentistry with a 5-Star rating and the Customer Satisfaction Award.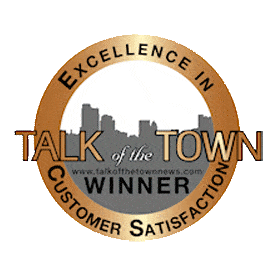 For the second year in a row, we have been given the Customer Satisfaction Award and it feels incredible to be recognized for our efforts in going out of our way to ensure our new and existing patients always receive a comfortable experience here. This is definitely a milestone in customer satisfaction for our practice. We are extremely honored to receive this award and will continue to give our patients the same excellent service they've come to expect from us.
Talk of the Town's ratings are calculated based on consumer-review websites and blogs, social networks, business rating services, and other award information to determine the top companies across the country.
Customer Needs Meet and/or Exceed Expectations of Dentist Visit
Rudnick Dentistry is always here to satisfy any dental needs you may have, whether it be for cosmetic, restorative, or implant purposes, just a checkup. You can count on us to listen to you, respect your decisions, educate you and most importantly make sure you are comfortable during every visit. We strive to be your best possible dentist in Palm Beach Gardens, FL, day in and day out.
Give us a call for your next appointment or with any question you have (561) 544-7201. We look forward to seeing you soon and making sure you enjoy every single visit with us.