Neuromuscular Dentistry – Remove the Cause, Not Just the Symptoms!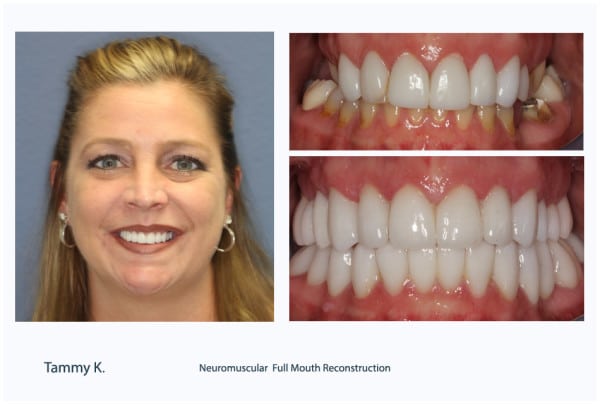 Neuromuscular dentistry focuses not only on the teeth and jaw bones, but on the soft tissues and nerves connecting these hard tissues.  The goal is to create the correct balance between these different working structures for optimal, comfortable function and stability.
When the jaw bone becomes misaligned it causes instability in all the working parts of your mouth and jaw and this can result in a number of problems.
Common symptoms of a neuromuscular disorder are:
Vertigo or dizziness
Tension or migraine headaches
Unevenly worn teeth
Shoulder and neck pain
Ringing in the ears
Jaw pain
Clicking or popping when opening and closing the jaws
Dr. Andrew Rudnick has special training in diagnosing and treating neuromuscular disorders. He has successfully treated not just the symptoms, but the underlying causes of those symptoms – providing permanent relief.
Tammy K. was dealing with a number of dental problems including those associated with a neuromuscular disorder. Full mouth reconstruction and neuromuscular therapy restored the healthy function of her teeth and jaw and provided complete relief from her discomfort along with a beautiful smile.
If you suspect neuromuscular disorder may be the cause of your discomfort or pain, contact our office for a friendly consultation with our Palm Beach Gardens dentist, Dr. Rudnick.