Witness Your New Stunning Smile With Cosmetic Imaging

What could you look like with a new smile?
Is your New Year's resolution to achieve your brilliant Hollywood smile? Are you considering to invest your hard earned dime in cosmetic dentistry treatments, but are hesitant to act because you're unsure what your new smile will look like? You now have the ability to preview your smile, free of blemishes (chips, gaps, awkward spacing, discoloration, etc.) with Dr. Rudnick's complimentary service of Snap cosmetic imaging. Considering these life changing procedures is an important decision, and you want to be sure you'll fall in love with your smile before making the big investment. In as little as 10 minutes, your Palm Beach Gardens cosmetic dentist can compile a smile design preview of your smile with state-of-the-art cosmetic imaging.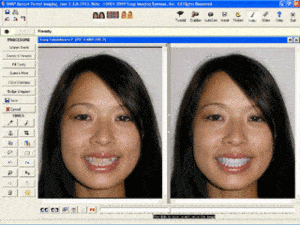 Take Home Your New Smile at No Charge!
Even if you are seeing Dr. Rudnick for a routine hygiene appointment, you can leave his office with a beautiful photo of your ideal smile. He offers this service for your convenience by taking a photo of your headshot, editing your teeth blemishes with simulated cosmetic services, and gives you a side-by-side comparison of your new smile and your natural smile. When editing your smile, Dr. Rudnick matches it with your persona and facial features making it look natural and beautiful.
Whether you want to preview the new you with some veneers or teeth whitening, cosmetic imaging is an excellent way to become acquainted with your new smile before any procedures have taken place. Sometimes all it takes is the vision of a stunning smile to move forward towards achieving it. Get ready for New Year's Eve with a beautiful smile by asking Dr. Rudnick about your complimentary cosmetic imaging preview.
Stop by the dentistry for your consultation and Snap Imaging Smile take home: (561) 544-7201
What do you value most in smile? Are there any treatments you wish to incorporate with your dental care? Share your thoughts by commenting below!